We are rolling out improvements to how you raise and direct donations to your organization's most impactful projects.
Our updated campaign management makes it lightning-fast to set up and exceed fundraising goals.
Look forward to:
Creating and managing campaigns in record time

Quickly raising donations by showcasing meaningful campaigns to over 1.2 million givers

Easily reordering campaigns with new auto-saving functionality
We moved some things around and updated labels so you can quickly edit campaigns in Givelify. This update is part of a larger effort to make it incredibly easy for you to finish tasks and maximize end-of-year fundraising in Givelify!
Updated labels
First, active and inactive campaigns will now be referred to as "Shown to donors" and "Hidden from donors" so you always know which campaigns are visible to donors. In addition, the term "Givers" is now replaced with "Donors."

Quickly make edits
The Shown and Hidden campaigns will now be displayed on the same page instead of being on separate tabs. This will help you update campaigns in record time.

If accessing the Giving Analytics Studio on a mobile device, you will still see two tabs for Shown and Hidden, due to there being less space available on a mobile device screen.
Quickly show or hide campaigns from your donors with our new "Show to donors" toggle. Once available only in the edit screen, this feature is now front and center so you can quickly highlight your most impactful campaigns to donors.

New auto-save functionality makes reordering campaigns a breeze; as you drag and drop campaigns, the system will automatically save changes, updating in real time.

Easily create new or edit existing campaigns
When you create a new campaign or edit an existing campaign, see a full-screen experience versus the current experience of a pop-up box, providing additional screen space so editing options are very clear.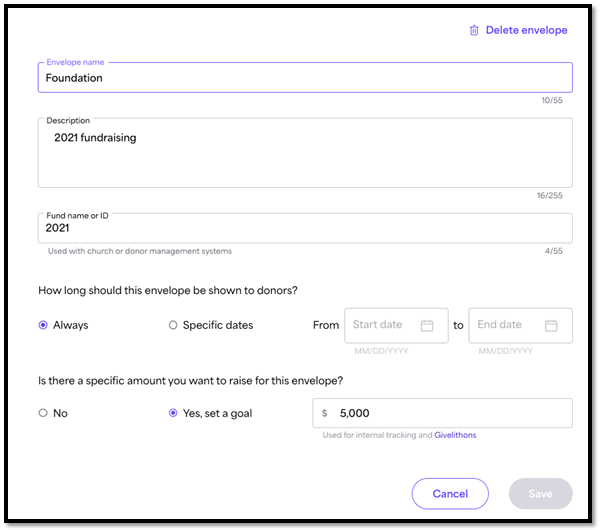 As you can see in the screenshot above, we've updated several labels and options so every person can easily manage campaigns, regardless of experience working with Givelify.
Some changes include:
Delete option has been moved to the top right for increased visibility

Updated the help text "Used with church or donor management systems" to clarify the use of the Fund name or ID

Updated the description "How long should this campaign be shown to donors?" to clarify the goal of campaign expiration dates

Updated the description "Is there a specific amount you want to raise for this campaign?" to clarify the purpose of using campaign goal targets

Updated the help text "Used for internal tracking and Givelithons" to clarify what campaign goal targets are used for
Get in Touch
We couldn't be more excited about these upcoming changes to make it easy for you to create and manage campaigns in Givelify.



If you have any questions or feedback on these changes, please don't hesitate to reach out to us at support@givelify.com